Christmas Tree – styles, size, real vs. artificial
I have started to contemplate if it is too early to put my Christmas tree up! It is exciting helping customers to purchase a new tree and decorations. And there are far too many decorations I'd like to add to my collection this year – no idea how I am going to decide.
Buying a new tree?
Think about the size of the room and space where the tree will be positioned, what type and quantity of decorations that will be used to dress the tree.
Will the tree be the centrepiece for Christmas Day or Christmas parties? Or will it make a statement in the entrance way? Or will you put up two trees? Think about where the closest power point is.
Even thought the cost is higher than a live tree in the first year, you will have the tree for 10+ years (ensuring of course it is put up and packed away correctly, stored away in a safe place). Our stores only carry "top of the range" trees; they are purchased according to the weight and the quantity of tips.
Style of tree
There are many styles of Christmas Trees available, which one to choose can be a tough decision. The Oregon is great if you have many decorations, they are an open tree making it easy to decorate in the depth of the tree. The Sugen tree has a bottle brush tip through it, giving the tree a point of difference. If you decorate in silver, white or cream, the Silver Fir tree is a great choice with its white tips enhancing the decorations.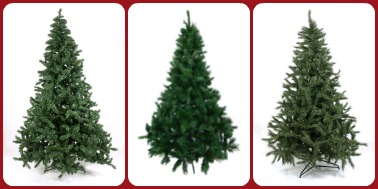 I have an Oregon Tree, as I know how much my collection grows every year! I am sure my husband rolls his eyes every year when new decorations suddenly appear on the Christmas tree!
If you need help choosing a tree, please pop into one of our stores to see the different options or give us a call 0508 434 756.
Setting up the Christmas Tree
Put in the bottom section, open each layer one by one, placing your hand under each layer as you open it as a support. "Fluff" each layer thoroughly making sure that the ones closest to the pole are flicked upwards so as to hide the mechanics. Once the bottom section is finished, fit the top portion into place and repeat the "fluffing" process. The tip of the tree is very long but can be folded if required.
To dismantle the tree – do everything in reverse, folding each branch as flat as possible. Easy storage after Christmas – the tree comes in a solid cardboard box.
Need to create more space? A hinged tree can be used in a corner or pushed flush against a wall. Do you have a small tree? Try putting it on a table or stand – it will create a better affect.
Real vs. Artificial
There are advantages of both a real tree and an artificial tree (or as we like to call them – everlasting trees!). Most people have a real tree for the lovely smell, however an everlasting tree is much easier to decorate and can take the weight of heavy decorations as well as extra lights.
I would love to hear your thoughts and what kind of tree you put up at Christmas time – pop across to our Facebook page and let me know.
So do I put my tree up or wait another 2 weeks?
Shelley